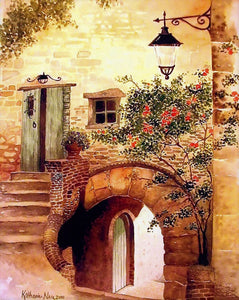 "French Alley" Giclée Prints ~ Larger Size
Regular price $500.00 Sale
Limited Edition of 250 
                                   Two Sizes: 15" x 20" -  $325.00
                                                     20" x 30" -  $500.00
This scene in LaCoste, France was stumbled upon and not soon forgotten. I was thrilled to capture the various textures of bricks, stone and wood among the arched alleys and, of course, the doorways.
Giclée (pronounced "zhee-clay") prints are unlike other reproduction prints. It is a high resolution image that is reproduced with permanent, fade-resistant inks. It is the most accurate representation of the artist's original artwork.  After the Artist has approved the final color adjustments, the giclee is ready to print on high quality watercolor paper.
According to tests conducted by Wilhelm Imaging Research, the inks have proved stable for at least 70 years without the characteristic fading seen in most other types of reproduction processes. This means that the giclee print will be as beautiful for generations to come as it is today.
All her limited-edition giclee prints are signed and numbered by Katharine Taylor.
All images on this site are Digitally Watermarked and Copyrighted ©The Color Gallerie