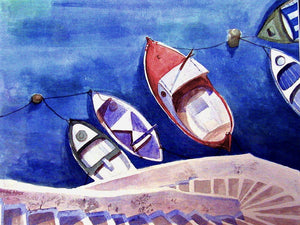 "Corsica Boats" Giclee Prints ~ One Size
Regular price $300.00 Sale
Limited Edition of 250; One Size 15" x 20"
The contrast of bright blue colors and sparkling white light in these Greek Islands are strikingly beautiful to the eyes. The steepness of the steps leading down to the waiting boats adds a touch of drama!
Giclée (pronounced "zhee-clay") prints are unlike other reproduction prints. It is a high resolution image that is reproduced with permanent, fade-resistant inks. It is the most accurate representation of the artist's original artwork.  After the Artist has approved the final color adjustments, the giclee is ready to print on high quality watercolor paper.
According to tests conducted by Wilhelm Imaging Research, the inks have proved stable for at least 70 years without the characteristic fading seen in most other types of reproduction processes. This means that the giclee print will be as beautiful for generations to come as it is today.
All her limited-edition giclee prints are signed and numbered by Katharine Taylor.
All images on this site are Digitally Watermarked and Copyrighted ©The Color Gallerie